BiS (Third Generation)
a.k.a

Future BiS

Years Active

2019-Present

Origin

Tokyo

Label

ULTRA STUPiD RECORDS (2020-)
Revolver Records (2019-2020)

Members
Former Members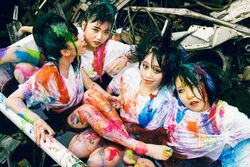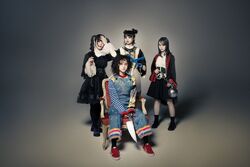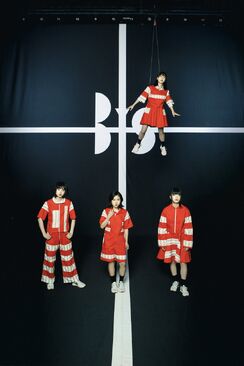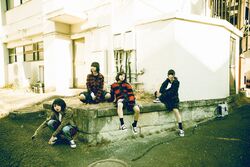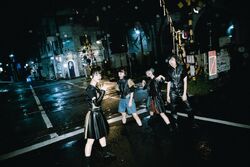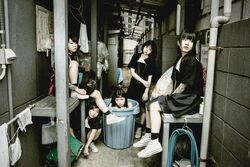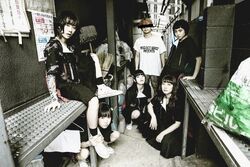 The third generation of BiS is the group's current line-up, active from August 2019.
On March 30th, at WACK EXHiBiTiON, BiS' second generation announced that they were to disband. At the same time, Watanabe Junnosuke announced his intention to reboot the group for a second time, and auditions for new members was opened immediately. The requirements for joining the group was to be a woman aged 18 to 28, who "understood the true meaning of Original BiS". When later asked to clarify, Watanabe stated that the girls would be willing to do anything to promote the group.
On June 11th, exactly one month after the second generation's disbandment, the founding members of third generation BiS were revealed as Manako Chiii Manako, Chantmonkee, Neo Trees, Toggy and Itou Musensiteebu. In a similar tradition as BiSH and POP, each member's eyes were obscured until they each got 15000 twitter followers.
The same day, BiS' third generation announced that they would release their first album on August 11th. Titled, Brand-new idol Society, it shared the same name as the debut release of their first-generation. Prior to the album's release, a demo version of the track "BiS3" was released on their Soundcloud, with Watanabe's vocals.
On June 25th, BiS released another song from the album, STUPiD, this time with the member's vocals. In the weeks leading up to its release, most of the tracks from "Brand-new idol Society" were released for free weekly on Soundcloud and Dropbox.
From July 20th to the 28th, BiS appeared in record stores handing out flyers containing QR codes to download the remaining tracks. As none of the members had yet reached the minimum target of twitter followers to reveal their faces publicly, they all wore visors that obscured their eyes, in a similar vein to the underground idol group ・・・・・・・・・.
Itou Musensiteebu was the first member to reach the 15000 follower goal and reveal her face on August 1st. Manako Chiii Manako soon followed just a few hours later. By August 3rd, every member had reached their goal and shown their faces.
BiS' third generation officially debuted during the WACK presents DREAMLIGHTS in TIF live set on August 4th.
On August 8th, following the free release of almost every track from Brand-new idol Society, three unreleased tracks not available on the album, Shounen no Uta, good bye and kAsAbutA were published.
On August 13th, just one day before the release of Brand-new idol Society, Manako Chiii Manako suddenly withdrew from BiS.
BiS held their first one-man live of the third generation, "THiS is BiS", on August 18th. Tickets were made to purchase over the phone, where members of the group answered. As the show concluded, Junnosuke Watanabe announced that auditions for Manako's replacement would be held immediately until August 31st.
On September 17th, BiS began a monthly radio show on JFN Park, "BiS no PARK LiFE", succeeding the "BiS no Honne or DIE" radio show from their second generation.
A new member, Zuzu Death, was accidentally leaked by the website StoryWriter on September 29th. Her addition was officially confirmed the following day, and her twitter account was launched, again, with her face hidden.
On October 7th, it was announced that Zuzu Death had already left BiS, just one week after joining.
The 2nd and 3rd of November saw the group's first marathon and race against CARRY LOOSE broadcast on Japanese streaming service Nicovideo, the winner of which would be the main act of a 2-man live with the loser. CARRY LOOSE were victorious against BiS and following this, a joint promo live for BiS' debut single and the CARRY LOOSE album took place at Tower Records Shibuya.
BiS's first major single of the third generation, DEAD or A LiME, was released on November 20th.
On January 29th, a re-recorded version of Brand-new idol Society was released.
The third generation's second album, LOOKiE, was released on February 5th. Like Brand-new idol Society, tracks from the album were released for free digitally.
On April 30th, BiS released the free digital single, IT'S TOO LATE.
BiS' second major single of the third generation, DESTROY, received a surprise guerilla-style release on May 20th. Less than a month later, a second guerilla single, CURTAiN CALL was released. For both of these singles, fans were encouraged to find the songs through Google, where they had been hidden on an undisclosed website as opposed to more traditional music distribution methods.
On July 8th, BiS guerilla-released a cassette tape, Imitation Sensation, at Tower Records branches. The cassette combined their previous two singles with two new songs, one of which was a secret track on Side B. Two days later, BiS announced a seven-song EP, ANTi CONFORMiST SUPERSTAR, to be released on August 18th.
Soon after the release of ANTi CONFORMiST SUPERSTAR, BiS announced the release of a set of compilation albums, "Propaganda" to "PROPAGANDA", in which almost all tracks would be chosen by fans. In addition, a blu-ray release of their HEART-SHAPED BiS IT'S TOO LATE EDiTiON NO AUDiENCE LiVE performance was released on October 14th. "Propaganda" to "PROPAGANDA" was ultimately released on November 25th.
On December 23rd, BiS suddenly announced the release of a new single, COLD CAKE, which would be made available the same day. However, instead of being made available to buy in-store, the single was only available as a prize in Sega UFO Catcher games.
BiS announced on January 11th that a sub-label had been launched under Nippon Crown had been launched exclusively to release BiS' works, named ULTRA STUPiD RECORDS. Their first confirmed release under the label, KiLLiNG IDOLS, will be released on February 24th.
[2019.09.17] BiS no PARK LiFE
2019

| Date | Event | Location | Comments |
| --- | --- | --- | --- |
| August 4th | WACK presents DREAMLIGHTS in TIF | Odaiba Aomi Peripheral Area, Tokyo | Debut Performance |
| August 18th | THiS is BiS | heavysick ZERO, Nakano | Debut oneman live |
| November 24th | BiSxCARRY LOOSE Co-Host | WOMB, Tokyo | Joint performance with CARRY LOOSE, succeeding the 2019 relay race between the two groups. |
| December 28-29th | Let's have a 24 hour BiS's party | Daikanyama UNIT, Tokyo | 24-hour live |
2020

| Date | Event | Location | Comments |
| --- | --- | --- | --- |
| June 20th | HEART-SHAPED BiS IT'S TOO LATE EDiTiON NO AUDiENCE LiVE | Unknown (Livestream) | No-Audience live. Was later released on Blu-Ray. |
| December 19 | The DANGER OF MiXiNG BiS | LINE CUBE SHIBUYA, Tokyo | Oneman Live |
WACK AUDiTiON CAMP 2019 finalists U Nko and Ryo both auditioned for this incarnation of BiS but did not pass.
The third generation of BiS do not perform any songs from the group's first two generations.
It is the first BiS generation to have no involvement from its founder, Pour Lui.
Community content is available under
CC-BY-SA
unless otherwise noted.