BiSBiS
Single by BiS
From the album
Release Date

July 8th, 2016

Format

Digital

Genre

J-Pop, Rock

Label

Tsubasa Records

Singles Chronology
Previous
Next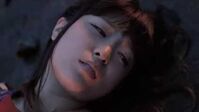 BiSBiS is a digital single by BiS and their first release in over two years. It was released for free on Ototoy on July 8th, 2016, exactly two years after BiS originally disbanded, and the same day that their Second Generation was announced.
While credited as BiS, it is actually a solo song by Pour Lui, as none of the first-generation members had returned to the group (although Kamiya Saki would return in SOCiALiSM) and auditions for new members was announced the same day as its release. However, it was re-recorded with the new members on Brand-new idol Society 2.
It was re-recorded again as a B-Side for Are you ready?.
It is considered the signature song of the second generation BiS.
BiSBiS
The guitar riff from Primal. can be heard halfway through the song.
The song and music video acts as somewhat of a "bookend" to BiS' second generation. As a means of announcing the formation of second-generation BiS, it was the first song and music video released. BiSBiS was then re-recorded and released as a B-Side on the second generation's final single, with the music video even being remade short-for-shot with the final lineup.
Community content is available under
CC-BY-SA
unless otherwise noted.