The Sandman Will Keep You Awake - The Loop
Play Sound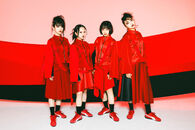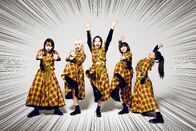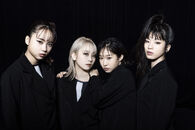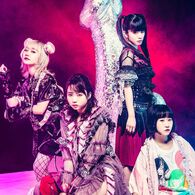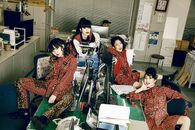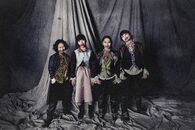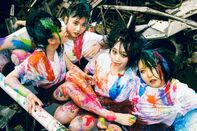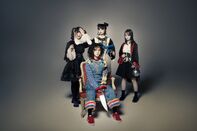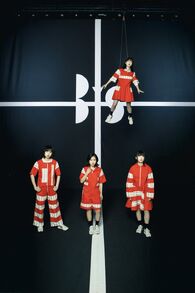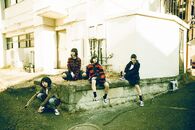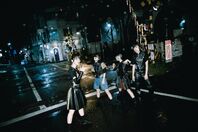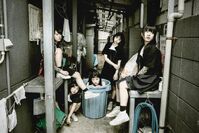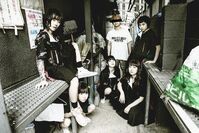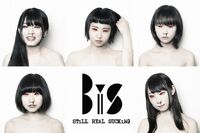 BiS' third generation is the group's current line-up, having been active since August 2019. It currently consists of four members.
Members
Former Members
History
2019
On March 30, at WACK EXHiBiTiON, BiS' second generation announced that they were to disband. At the same time, Watanabe Junnosuke announced his intention to reboot the group for a second time, and auditions for new members was opened immediately. The requirements for joining the group was to be a woman aged 18 to 28, who "understood the true meaning of Original BiS". When later asked to clarify, Watanabe stated that the girls would be willing to do anything to promote the group.
On June 11, exactly one month after the second generation's disbandment, the founding members of third generation BiS were revealed as Manako Chiii Manako, Chantmonkee, Neo Trees, Toggy and Ito Musensiteebu. In a similar tradition as BiSH and POP, each member's eyes were obscured until they each got 15000 twitter followers.
The same day, BiS' third generation announced that they would release their first album on August 11. Titled, Brand-new idol Society, it shared the same name as the debut release of their first-generation. Prior to the album's release, a demo version of the track "BiS3" was released on their Soundcloud, with Watanabe's vocals.
On June 25, BiS released another song from the album, STUPiD, this time with the member's vocals. In the weeks leading up to its release, most of the tracks from "Brand-new idol Society" were released for free weekly on Soundcloud and Dropbox.
From July 20 to the 28th, BiS appeared in record stores handing out flyers containing QR codes to download the remaining tracks. As none of the members had yet reached the minimum target of twitter followers to reveal their faces publicly, they all wore visors that obscured their eyes.
Ito Musensiteebu was the first member to reach the 15000 follower goal and reveal her face on August 1. Manako Chiii Manako soon followed just a few hours later. By August 3, every member had reached their goal and shown their faces.
BiS' third generation officially debuted during the WACK presents DREAMLIGHTS in TIF live set on August 4.
On August 8, following the free release of almost every track from Brand-new idol Society, three unreleased tracks not available on the album, Shounen no Uta, good bye and kAsAbutA were published.
On August 13, just one day before the release of Brand-new idol Society, Manako Chiii Manako suddenly withdrew from BiS.
BiS held their first one-man live of the third generation, "THiS is BiS", on August 18. Tickets were made to purchase over the phone, where members of the group answered. As the show concluded, Junnosuke Watanabe announced that auditions for Manako's replacement would be held immediately until August 31.
On September 17, BiS began a monthly radio show on JFN Park, "BiS no PARK LiFE", succeeding the "BiS no Honne or DIE" radio show from their second generation.
A new member, Zuzu Death, was accidentally leaked by the website StoryWriter on September 29. Her addition was officially confirmed the following day, and her twitter account was launched, again, with her face hidden.
On October 7, it was announced that Zuzu Death had already left BiS, just one week after joining.
The 2nd and 3 November saw the group's first marathon and race against CARRY LOOSE broadcast on Japanese streaming service Nicovideo, the winner of which would be the main act of a 2-man live with the loser. CARRY LOOSE were victorious against BiS and following this, a joint promo live for BiS' debut single and the CARRY LOOSE album took place at Tower Records Shibuya.
BiS's first major single of the third generation, DEAD or A LiME, was released on November 20.
2020
On January 29, a re-recorded version of Brand-new idol Societywas released.
The third generation's second album, LOOKiE, was released on February 5. Like Brand-new idol Society, tracks from the album were released for free digitally.
On April 30, BiS released the free digital single, IT'S TOO LATE.
BiS' second major single of the third generation, DESTROY, received a surprise guerilla-style release on May 20. Less than a month later, a second guerilla single, CURTAiN CALL was released. For both of these singles, fans were encouraged to find the songs through Google, where they had been hidden on an undisclosed website as opposed to more traditional music distribution methods.
On July 8, BiS guerilla-released a cassette tape, Imitation Sensation, at Tower Records branches. The cassette combined their previous two singles with two new songs, one of which was a secret track on Side B. Two days later, BiS announced a seven-song EP, ANTi CONFORMiST SUPERSTAR, to be released on August 18.
Soon after the release of ANTi CONFORMiST SUPERSTAR, BiS announced the release of a set of compilation albums, "Propaganda" to "PROPAGANDA", in which almost all tracks would be chosen by fans. In addition, a blu-ray release of their HEART-SHAPED BiS IT'S TOO LATE EDiTiON NO AUDiENCE LiVE performance was released on October 14. "Propaganda" to "PROPAGANDA" was ultimately released on November 25.
On December 23, BiS suddenly announced the release of a new single, COLD CAKE, which would be made available the same day. However, instead of being made available to buy in-store, the single was only available as a prize in Sega UFO Catcher games.
2021
BiS announced on January 11 that a sub-label had been launched under Nippon Crown had been launched exclusively to release BiS' works, named ULTRA STUPiD RECORDS. Their first confirmed release under the label, KiLLiNG IDOLS, was released on February 24. Leading up to its release, several of its tracks were released in advance as digital singles. COLD CAKE was also re-released in stores.
In early April, it was announced that AKB48 member Kashiwagi Yuki would be joining BiS temporarily sometime in the near future. Further details were revealed on May 15, with the announcement that BiS would release a single with Yuki concurrently with six other WACK singles that would include her on August 31st. However, all seven singles were later postponed so that Yuki could receive emergency surgery.
On May 26, BiS released the double A-side single, TOUCH ME / LOVE.
Just a month after the release of TOUCH ME / LOVE, BiS released another single, IMAGINE? The single was a cover of a song by BEAT CRUSADERS, and was released guerilla-style, limited to 100 copies and priced at 6969 yen, and promoted their live tour, ARABAKI×BiS GiP! -GREAT iDOL PURiTANS-, in which they would perform alongside Hidaka Toru from BEAT CRUSADERS. The single was the first in a three-part series of monthly guerilla releases, containing covers by artists who would accompany them on the tour.
In early July it was discovered that Tower Records Shibuya accidentally double-booked release events for BiS' TOUCH ME / LOVE, and "PvP", the debut album by idol group, ZOC, at the same time, on July 12th. After becoming aware, Watanabe Junnosuke and ZOC's Oomori Seiko (who had performed wit BiS' first generation in the past) publicly discussed turning the mishap into a joint event over twitter, to the amusement of both group's fanbases. The following day, it was confirmed that the mistake was to become a joint event instead.
BiS released their second ARABAKIxBiS commemorative single, PMA(Positive Mental Attitude), on July 29th. The single was a cover of a song by KEMURI, whose vocalist, Noriaki Tsuda, was one of the featured guests on the tour.
On August 18th, it was announced that a joint audition for additional BiS and ASP members would take place, signalling the end of BiS' two years of line-up stability. A week later, BiS released their last ARABAKIxBiS commemorative single, BASIS. This song was a cover of a track by BRAHMAN, whose bassist, RONZI, was the third featured musician on the tour.
The latter part of 2021 served to be a busy period for BiS, with several new releases occuring in a short span of time; After over a month of uncertainty, a new release date for BiS' single with Kashiwagi Yuki, as well as every other since she would feature in, was announced. On October 3rd, BiSZOC, a collaboration between BiS and ZOC was announced, with the two groups releasing a joint single, Katsurei Girl / BEGGiNG, on November 3rd, and a joint tour later that month.
On November 4th, BiS announced a new member, Nano3, ultimatelely ending their 2-year streak without any major line-up changes. Like the members who joined before her Nano3's face was heavily-altered with the promise that her full face would be revealed upon gaining 25,000 twitter followers.
BiS' collaborative single with Kashiwagi Yuki, Kashiwagi Yuki Nari no BiS-ANYTiME ANYTHiNG- was released on November 30th. Nano3 did not feature on the single, as it was recorded prior to her joining. Finally, BiS will release a cover album, BiS DiVE into ROCKS, on December 1st. Likewise, Nano3 was absent, though her first single as part of the group was announced twelve days later.
2022
In late February, BiS announced that Toggy would go on indefinite hiatus in order to treat a long-term leg injury. A week later, on February 23rd, BiS released their first single with Nano3, DA DA DA DANCE SONG. As it had been recorded long before her hiatus had been decided, Toggy still featured on the single. A week later, BiS' upcoming activities were either cancelled or postponed until after February due to the poor physical condition of the remaining members, in particular, Neo Trees, who had caught tonsilitis.
Through April and May, BiS collaborated with STUPiD BOYS for ARABAKI, a collective unit formed of members of THE STARBEMS, KEMURI and BRAHMAN. As well as a tour in May, BiS also released a single on 7-inch vinyl, BELiEVE. During the finale of the tour, they announced a new single, Hey boy hey girl, released on July 6th.
On July 11th, starting member, Chantmonkee, announced that she would leave BiS at their July 18th release event, just one week in advance. With Toggy also on hiatus, this would bring the total line-up down to three members.
During their Tokyo Idol Festival set on August 6th, Toggy made a surprise appearance with the group, officially resuming her activities.
BiS will feature in the upcoming smartphone game, WACK ROCKiN' PARTY, which is set to be released later in the year.
Discography
Filmography
Live Video
Film
Other Media
Radio
[2019.09.17] BiS no PARK LiFE
Games
Smartphone Game
Card Game
Events
Trivia
Instead of roles, third-generation members are assigned a word that is usually displayed on their uniform. The words are typically swears or sexual terms.
WACK AUDiTiON CAMP 2019 finalists U Nko and Ryo both auditioned for this incarnation of BiS but did not pass.
The third generation of BiS do not perform any songs from the group's first two generations.
It is the first BiS generation to have no involvement from its founder, Pour Lui.
External links