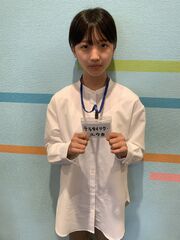 Bell Nard (ベル・ナルド) is a trainee idol as part of WAgg, joining in March 2021.
Biography
From March 21st to 27th, 2021, Bell Nard participated in the WACK AUDiTiON CAMP 2021. At the end of the camp, it was announced that she would join WAgg. Her debut performance took place on May 30th.
In mid-June, Bell, along with every other active WACK member at the time, joined the shuffle unit, Dogenzaka43. Her only single as part of the group, Kyouniku Jakushoku ~Tsuyoi Yatsura wo Kucchimae~, was released on June 16th. This also marked her first release as part of WACK overall.
On July 31st, it was revealed that Bell Nard had been infected with coronavirus, and would need to go on hiatus.
Profile
Current Stage Name: Bell Nard (ベル・ナルド)
WACK Audition Name: Teratairuku Yuka (テラタイリク・ユウカ)
WACK status:
WACK Groups:
Overall Time in WACK: 0 Years, 4 Months, 4 Days
Discography Featured In
Dogenzaka43
Single
Trivia
Gallery