The Sandman Will Keep You Awake - The Loop
Play Sound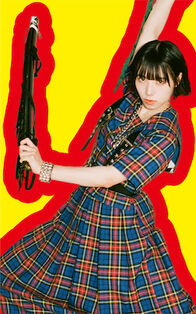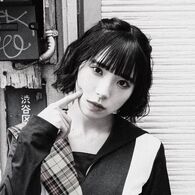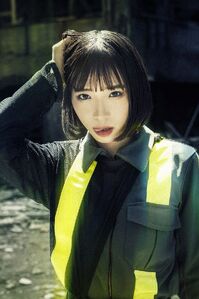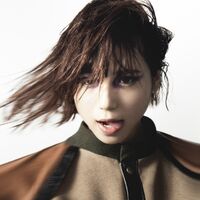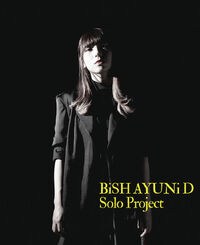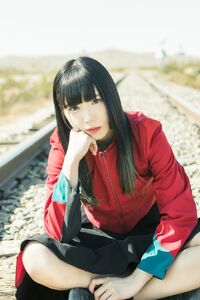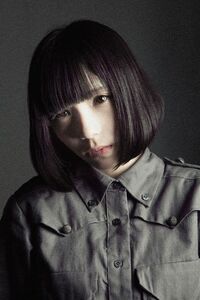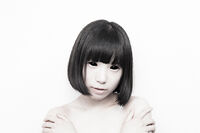 Ayuni D (アユニ・D), real name Ito Ayuko (伊藤亜佑子), is a Japanese idol under WACK, as a member of BiSH. She joined in August 2016. In addition to her activities with BiSH, she has a solo project, Aomushi (青虫), and a band, PEDRO, which was active from 2018 to 2021. She is also part of the shuffle units, SAiNT SEX and Dogenzaka43.
Biography
2016
On August 1st, 2016, Ayuni D was announced as a new member of BiSH. Initially, her eyes were obscured and would only be revealed when she reached ten thousand twitter followers, much like her BiSH seniors. When she reached her target quicker than expected, it was extended to fifteen thousand.
Ayuni eventually made her stage debut on August 24th, where she "stole" her official member role, "My Little Sister Couldn't Be This Cute", from Cent Chihiro Chittiii.
On October 5th, Ayuni D's first album as a member of BiSH, KiLLER BiSH, was released.
2017
On March 22nd, Ayuni D released her first single with BiSH, Promise the Star.
Ayuni D joined WACK's first shuffle unit, SAiNT SEX, on October 2nd.
On December 31st 2017, it was announced that she had ranked third in the WACK General Election.
2018
On September 18th, Ayuni D launched a solo project, named PEDRO. Her debut album, Zoozoosea, was released in record stores with no prior announcement or promotion the same day.
PEDRO's first solo live took place on September 25th.
On October 16th, Ayuni D modelled for NEGLECT ADULT PATiENTS at Amazon Fashion Week.
2019
On January 30th, Ayuni D joined a second shuffle unit, BULLY IDOL, and, as a member, appeared in the music video for BILLIE IDLE®︎'s Soshite, Mata..
Ayuni D modelled for NEGLECT ADULT PATiENTS at Amazon Fashion Week for a second time on March 20th.
From the 24th to 30th March, Ayuni D participated in the WACK AUDiTiON CAMP 2019 as a mentor. At the concluding WACK EXHiBiTiON, it was announced that PEDRO had been signed to EMI Records, would release a new album, THUMB SUCKER, and hold her first tour, "DOG IN CLASSROOM TOUR".
Ayuni D released her first solo photobook, Ga Ze Ga, on October 12th.
2020
In early October, it was announced that PEDRO would perform at Nippon Budokan on February 13th, making Ayuni D the first artist in WACK to achieve this long-coveted goal.
2021
In mid-June, Ayuni D, along with every other active WACK member at the time, joined the shuffle unit, Dogenzaka43. Her only single as part of the group, Kyouniku Jakushoku ~Tsuyoi Yatsura wo Kucchimae~, was released on June 16th.
Ayuni D released a surprise solo single on July 7th, to promote the releases of PEDRO's Seikatsu to Kioku and SKYFISH GIRL -THE MOVIE- Blu-Rays. The song seemingly had no name, and was instead referred to as Mi ni Kuru no Hitori, or, "Unnamed Sound Source". A few days later, it was revealed to be a cover of Kami wa Saikoro wo Furanai's "Yonaga Uta" that she had recorded with N-buna, of the band Yorushika. The full-length version of the song was later released as a digital single.
In late August, recorded a solo song, "Toriyanse", for the soundtrack of the mobile game, "Ragnador". The game already featured Cent Chihiro Chittiii has a voice actress, and a number of BiSH songs were included in the soundtrack.
On August 31st, Ayuni modelled NEGLECT ADULT PATiENTS' Spring/Summer 2022 collection at Rakuten Fashion Week.
On September 7th, PEDRO announced that they would go on indefinite hiatus at the end of the year, as Ayuni needed time to recharge. Just over a month later, Ayuni announced a new solo project, Aomushi (青虫), with an EP set to be released in November. As Aomushi she had already released a digital single, Yubune, but at the time her vocals had been unconfirmed.
Leading up to its release of Ayuni's solo EP, 103go, the track Kioku no Heya was released digitally over a week in advance. The full-length EP was eventually released on November 3rd.
PEDRO's final performance, Sasurahi, took place at Yokohama Arena on December 22nd, after which they went on indefinite hiatus. Just two days later, BiSH announced that they would disband in 2023.
2022
Ayuni D made her acting debut in early February, starring in the web film, C'est LA VIE.
Personal Life
Ayuni D was born in Sapporo on October 12th, 1999.
Before becoming an idol, Ayuni worked part-time at a gas station. She attended a technical school and is qualified in handling flammable liquids.
She is close friends with Muropanako, and they attended school together.
Profile
Stage Name: Ayuni D (アユニ・D)
Real Name: Ito Ayuko (伊藤亜佑子)
Other Names: Aomushi (青虫)
Birth Date: October 12, 1999 (age 22)
Birthplace: Sapporo, Japan
Height: 160 cm
Blood Type: A
Nickname: Ayuni (アユニ)
Western Zodiac:  Libra
Eastern Zodiac: Rabbit
BiSH Role: 'My Sister Couldn't Be This Cute' Member (僕の妹がこんなに可愛いわけがない担当)
WACK status:

2016.08.01: Joined BiSH
2018.09.18: Launched solo project (PEDRO)
2021.12.22: PEDRO goes on indefinite hiatus
2023.xx.xx: BiSH disbands

BiSH Colour:  White
WACK Groups:
Overall Time in WACK: 6 Years, 0 Months, 19 Days
Discography
Mini-Albums
[2021.11.03] 103go (as Aomushi)
Singles
Digital Singles
Songs
[2021.08.25] Toriyanse (とおりゃんせ)
Publications
Videography
Live Video
Film
Web Series
Short Film
[2022.02.07] C'est LA VIE
Games Featured In
Smartphone Game
Card Game
Lyricist Credits
PEDRO
BiSH
Composer Credits
Trivia
Stole her catchphrase from Cent Chihiro Chittiii during her first show.
Applied to BiSH three hours before the deadline.
Joined BiSH exactly one year after Hashiyasume Atsuko and Lingling.
Is the youngest member of BiSH.
During the BiSH audition, she questioned why she was there as she felt she was the only "country bumpkin" and uncute compared to the other girls auditioning.
Learned about BiSH through her older sister, who was a big 1st Generation BiS fan.
Is part of a series of photoshoots on Bisweb.jp where she tries out different fashion styles.
Her favourite flower became the Lantana flower after it became part of the Zoozoosea album art design.
Ayuni D fans are called oniitans (big brothers), a reference to her little sister role. Ayuni D herself however, doesn't like that name.
Gallery