AMEMiYA KANON
Japanese

雨宮かのん

Nickname

Kanon (かのん), Nonchan (のんちゃん), Nonsan (のんさん)

Other Names

Cola (コーラ), Coca-Cola (コカ・コーラ), Suzuki Kanon (鈴木かのん)

Birthdate

September 20, 1999 (1999-09-20) (age 21)

Birthplace

Tokyo

Bloodtype

AB

Height

163cm

Professional Information

Group
Audition Camp(s)
Years Active

2010-Present

Associated Acts

Hachimitsu Rocket, Gachinko3, Team Daioh Ika, 3B junior

PARADISES Information

Date Joined

March 27th, 2021

Time in Group

0 Years, 0 Months, 24 Days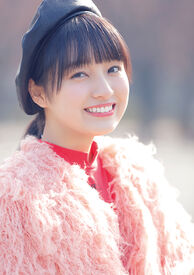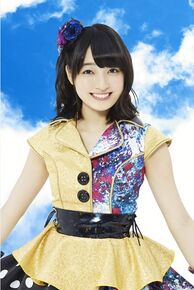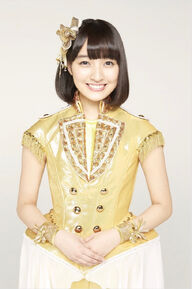 Amemiya Kanon (雨宮かのん), born Suzuki Kanon (鈴木かのん) and also known as Cola (コーラ) is a Japanese idol under WACK, as a member of PARADISES. She joined WACK in March 2021.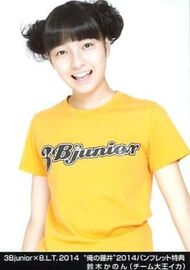 Prior to joining WACK, she was a member of the Stardust idol groups Hachimitsu Rocket, Gachinko3, Team Daioh Ika and 3B junior.
Suzuki Kanon joined Stardust Promotion in 2012 to pursue her dream to become an actress and appear in the morning drama Asadora. Prior to this she had some minor roles in film and television as a child actress.
On October 1st, 2013, Kanon joined Team Daioh Ika as a founding member.
On January 1st, Suzuki Kanon, as part of Team Daioh Ika, featured on the single Nanairo no Stardust, and the album, Sutada 3Bjunior Last Daizenshu. Just a week later, Team Daioh Ika disbanded.
Suzuki Kanon joined Stardust's trainee unit, 3B junior on November 1st, 2014, and changed her stage name to Amemiya Kanon. Just over a month later, Kanon also joined the 3B junior subunit, Hachimitsu Rocket, where she was given the role of the group's leader.
On July 14th, 2016, Amemiya Kanon joined the group, Gachinko3. Her debut album with Gachinko3, Kimi no Yume wa Boku no Yume, was released on April 23rd, 2017.
Amemiya Kanon's first major singles with Hachimitsu Rocket, "Hachimitsu Rocket ~Ougon no Shichinin~" and "Okashina Watashi to Hachimitsu no Kimi", were released on March 7th, 2018. Twenty days later, she held her first solo live.
Amemiya Kanon graduated from Hachimitsu Rocket and left Stardust Promotion on June 8th, 2019.
In June 2020, Amemiya Kanon participated in the Project WACK-Chin Audition under the moniker, "Coca-Cola" (コカ・コーラ). While she failed to pass the 14th CHALLENchin, she was invited by Watanabe Junnosuke to take part in the WACK AUDiTiON CAMP the following Spring, an offer she accepted.
From March 21st to 27th, Coca-Cola took part in the WACK AUDiTiON CAMP 2021, under the name "Cola", a shortened version of her WACKchin name.
At the end of the WACK AUDiTiON CAMP, on March 27th, it was announced that Cola would join PARADISES. Her debut performance with the group would take place on April 29th.
Real name: Suzuki Kanon (鈴木かのん)
WACK Audition Names:
Past Stage Name: Amemiya Kanon (雨宮かのん)
Nickname: Kanon (かのん), Nonchan (のんちゃん), Nonsan (のんさん)
Birthday: September 20, 1999
Birthplace: Tokyo
Blood type: AB
Height: 163cm
Hobby: Pastry making, painting, collecting stuffed toys
Speciality: Making calligraphy, dancing, rotating eyes quickly
Favourite Food: Shio Onigiri, Gummies, Ramune
Favourite Quotes: I will strive to make my dream come true.
WACK Status:

2021.03.27: Joined PARADISES

WACK Groups:
Other Groups:
Overall Time in WACK: 0 Years, 0 Months, 24 Days
[2010] Ongaku Hito
[2013] Kyuusai (MOOSIC LAB 2013 Special Screenings)
[2010.xx.xx] MAG Net ~Manga, Anime Game no Genba~: Monster Hunter
[2013.08.13 - 2013.08.17] Koukouza Kimi no Pinchi wo Sukuu! Basic Kokugo
[2016.07.14 - 2019.05.16] Kiyozuko Shinya no Gachinko 3B junior
[2012] Eikou Seminar. Kaki Taiken Koshuu
Graduated from high school in March 2018 and started university the following April.
Was inspired to become an idol by Nanaki Kanon and Nishino Mami.
Out of every WACK AUDiTiON CAMP contestant so far, she has had the most prior idol experience.
Shares her name with ex-Morning Musume member Suzuki Kanon, and some fans say they even look similar.
Community content is available under
CC-BY-SA
unless otherwise noted.