ASP
a.k.a

ANAL SEX PENiS

Years Active

2021-present

Origin

Tokyo

Website
Members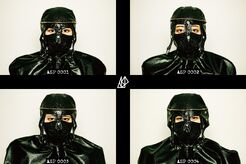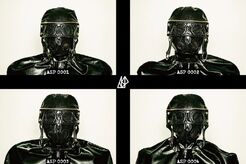 ASP (ANAL SEX PENiS) is a Japanese idol group formed in March 2021 under WACK. They describe themselves as "ANTi STYLE IDOLS".
At the end of the WACK AUDiTiON CAMP 2021, on March 27th, 2021, Watanabe Junnosuke announced the formation of a new unit, named ASP. Rather than selecting audition participants to join the group, the members had been pre-selected and appeared at the camp in-person, with their faces hidden by gimp masks. In addition, rather than stage names, each member was instead given a number identifier, from 0001 to 0004. As with several past WACK idols, ASP were to have their faces obscured until each member reached 15,000 followers on Twitter. The minimum goal was then extended to 20,000 due to how quickly the members appeared to be gaining followers.
ASP's official SoundCloud was launched on March 29th, along with their first song, Haikei Rockstar-sama (FAKE). The song featured Watanabe's vocals instead of the members, as is traditional with newly-launched WACK units.
On March 30th, the members began reaching their goal of 20,000 followers. Rather than revealing their full face, the masks were cut to show their eyes instead. Further parts of their masks were gradually reveal parts of their face.
On April 9th, the identities of the founding ASP members were revealed as Yumeka Naukana? (0001), Namaenai (0002), Mog Ryan (0003) and Nayu (0004). Yumeka Naukana? was previously part of WACK as a member of CARRY LOOSE, while Nayu was a WAgg trainee who had been on hiatus since October 2020.
At the same time their faces were revealed, ASP announced their debut album, with two songs from the album being released on Soundcloud at the same time; BE MY FRiEND and the official recording of Haikei Rockstar-sama. Later that same day, an additional announcement was made that Yuki Reysole would temporarily join ASP at a later date.
Two more songs, Higaisha Buru na and WAiT AND WASTE, were uploaded to ASP's SoundCloud on April 16th.
ASP's first album, ANAL SEX PENiS, will be released on May 26th.
Community content is available under
CC-BY-SA
unless otherwise noted.