The Sandman Will Keep You Awake - The Loop
Play Sound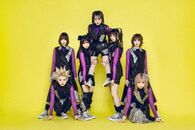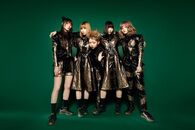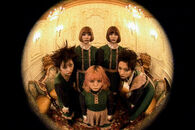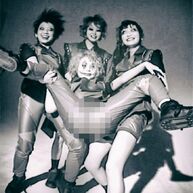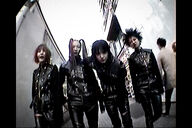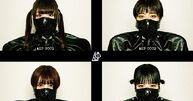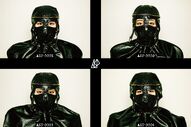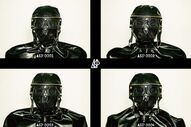 ASP is a Japanese idol group formed in March 2021, as part of WACK.
They describe themselves as "ANTi STYLE IDOLS", and initially began promoting themselves with the acronym "ANAL SEX PENiS", but later switched to "ANTi SOCiETY PUNKS". They typically follow a punk-rock sound and image, and they have been viewed by some as a return to the punk style of idol that WACK had been previously linked to in the early days of its conception.
As of WACK ROCKiN' PARTY, most groups have been given representative colours, as used in their costumes. ASP's colour is

purple.
Members
Former Members
Naayu (Founding Member, graduated November 24th, 2021)
Kashiwagi Yuki (Special limited-time member, joining for one single in 2021)
History
Pre-Debut
Due to the disbandment of CARRY LOOSE, WACK President Watanabe Junnosuke set out with the idea to create a new group due to the Coronavirus pandemic leaving CARRY LOOSE with various unfulfilled goals. As it had been 6 years since a WACK group started without any kind of label, self-releasing a group with unlimited creative freedom became the idea, or in Watanabe's words: "I wanted to be able to do whatever I wanted".[1] The phrase "ANAL SEX PENiS" became stuck in his head, and the group's name was turned into an acronym based off of that. Various other themes were considered with the additional creative freedom too, with the phrase "ANTi SOCiETY PUNKS" being a reference to Brand-new idol Society and the idea of doing something in the vein of 1st generation BiS while simultaneously juxtaposing it, similar to BiSH and the latter generations of the group.[2] Another core theme would be the unknown - with the members starting out with no faces to being revealed slowly over time and again with their start being without any kind of label be it indie or major. [3]
Yumeka Nowkana? and Uruu Ru were originally selected as members, however Uruu left the company during the group's infancy. Naayu was later selected during her temporary hiatus while healing from her leg injury, and Mog Ryan due to her growth between the 2020 AUDiTiON CAMP and the online Project WACKchin Audition. Nameless was chosen as the final member during an interview in February for the 2021 AUDiTiON CAMP. Nameless was told not to go to the camp as Watanabe felt she'd fail, but she could start a new group right away.[4]
In December 2020, A Song of Punk was composed as a starting point for the group's musical theme. Lyrical inspiration would be taken from Japanese punk bands and musicians such as THE HIGH-LOWS, Thee Michelle Gun Elephant and Fishmans.[5]
Reveal and Post-Debut
At the end of the WACK AUDiTiON CAMP 2021, on March 27, 2021, Watanabe Junnosuke announced the formation of a new unit, named ASP. Rather than selecting audition participants to join the group, the members had been pre-selected and appeared at the camp in-person, with their faces hidden by gimp masks. In addition, rather than stage names, each member was instead given a number identifier, from 0001 to 0004. As with several past WACK idols, ASP were to have their faces obscured until each member reached 15,000 followers on Twitter. The minimum goal was then extended to 20,000 due to how quickly the members appeared to be gaining followers. Various news articles and tweets were posted with the hashtag "#ANALSEXPENiS", which got a large reaction both from people in Japan and in other countries.
ASP's official SoundCloud was launched on March 29, along with their first song, Haikei Rockstar-sama (FAKE). The song featured Watanabe's vocals instead of the members, as is traditional with newly-launched WACK units.
On March 30, the members began reaching their goal of 20,000 followers. Rather than revealing their full face, the masks were cut to show their eyes instead. Further parts of their masks were gradually reveal parts of their face.
On April 9, the identities of the founding ASP members were revealed as Yumeka Nowkana? (0001), Nameless (0002), Mog Ryan (0003) and Naayu (0004). Yumeka Nowkana? was previously part of WACK as a member of CARRY LOOSE, while Naayu was a WAgg trainee who had been on hiatus since October 2020.
At the same time their faces were revealed, ASP announced their debut album, with two songs from the album being released on Soundcloud at the same time; BE MY FRiEND and the official recording of Haikei Rockstar-sama. Later that same day, an additional announcement was made that Kashiwagi Yuki would temporarily join ASP at a later date.
ASP's first album, ANAL SEX PENiS, was released on May 26. Leading up to its release, songs from the album were gradually added to Soundcloud on a weekly basis.
ASP held their first oneman live at Nakano Heavysick ZERO on May 30. The event was announced just 10 days in advance. Tickets for the live were distributed via a raffle lottery at WACK's MULTiPLE MANiACS store, with other raffle prizes being a rice cooker, a travel catalogue and a gift card for some Matsusaka beef (Japanese luxury beef from the Matsusaka region). Tickets for a cinematic broadcast of the live were also given as a prize, so that once Heavysick ZERO's capacity was reached, more people could still watch.
The day of the event, they also announced their first live tour and that the eventual plan for the group was to bring back things like stage diving, moshing and lifting, which other WACK groups can no longer do. The fanbase name was also announced as Narazu-mono ( ならず者), and on June 4th, the official ASP Twitter posted[6] that "Rogues" was the official translated name.
In late May, ASP announced an upcoming single for August 31st. This single would include Kashiwagi Yuki as a member, and would be released concurrently with six other WACK releases also featuring her However, in early June, its release was postponed indefinitely so that Yuki could receive emergency surgery.
On June 8th, ASP begun their first radio show, "ASP no Radio Virgin", on AuDee. Later that month, they launched a zine documenting their activities, ASP Bunsatsu Hyakkakata.
During their August tour, TOUR STAR FUCKERS, they began to perform new songs, Itsudemo Fuck You ♡ (いつでもファッキュー♡) and WASTED TEARS
On August 18th, it was announced that ASP and BiS would hold a joint audition for additional members. By the end of the first deadline on August 30th, Watanabe claimed that only 10 people had applied, though some fans were unsure of the validity of that claim.
Announced on August 24th at the TOUR STAR FUCKERS final show, ASP's debut single, the MAN CALLiNG, was released on September 22nd with WASTED TEARS as the B-side. Additional announcements included their upcoming MARCH of ROGUES tour and the performance of an untitled new song. [7] Later the following month, their planned single with Kashiwagi Yuki, was also rescheduled to November, as well as a new album announced for January.
On November 12th, Naayu announced her graduation from ASP and WACK, citing the worsening foot injury that had led to her initial hiatus from WAgg. While initially, the group's choreography was adjusted to accommodate the injury, it was ultimately decided that she would graduate during the finale of their MARCH of ROGUES tour.
Naayu graduated from ASP on November 24th. During her final live, two new members, twins Matilder and Wonker, were unveiled.
ASP's collaborative single, Kashiwagi Yuki Nari no ASP-AGAiNST THE WORLD-, will be released on November 30th. As Naayu will have only had left six days prior, she still featured on the single but was uninvolved with promotional activities including VOTE! WACK SELECT 7. Similarly, the new members do not feature.
Much like their debut album, songs from their second, PLACEBO, were gradually uploaded to Soundcloud in the weeks leading up to its release.
2022
ASP's second album, PLACEBO, was released on January 5th in addition to a music video for "M." Shortly after, they announced their next single.
On February 21st, ASP performed their oneman show ANTi SOCiAL PAiNS at the venue Zepp DiverCity - the biggest venue the group had performed at thus far. After performing all of their songs over 2 hours, they performed new song "BOLLOCKS" from their upcoming single.
BOLLOCKS was released on April 13th.
During the Tokyo date of their ACOUSTiC SAD ORCHESTRA TOUR, ASP announced that they had signed with the major label, Avex (of which also handles BiSH and MAMESHiBA NO TAiGUN). Just one day later, they released a limited-edition single, HAiKEi ROCKSTARSAMA 2022, exclusively at Tower Records Shibuya, for just 5yen.
ASP's major label debut single, Hyper Cracker, will be released on August 31st.
In addition, ASP will feature in the upcoming smartphone game, WACK ROCKiN' PARTY, which is set to be released later in the year.
Discography
Albums
Singles
Music Videos
Publications
Other Media
Radio
[2021.06.08-2021.06.29] ASP no Radio Virgin (ASPのラジオヴァージン)
Smartphone Game
Live Events
Trivia
While in the past the members did confirm[8] that yes, their name really is short for ANAL SEX PENiS, a recent Tower Records display[9] says "Hey, we're ANTi SOCiETY PUNKS, not ANAL SEX PENiS."
After reports from overseas websites were written about the group, ASP received attention from some English-speaking K-Pop fans, particularly taking amusement in their name and Nameless's apparent resemblance to Yves from LOONA.
Gallery
References